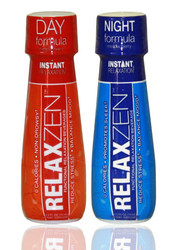 No matter what's got you stressed out, RelaxZen is there to help calm your nerves. Whether you use a RelaxZen DAY shot to help you focus, or RelaxZen NIGHT to help you get a good night's rest, you'll be glad to have these relaxing drinks around the house.
If you would like to enter to win a 30-day supply of RelaxZen all you have to do is the following:
Send a tweet about what stresses you out in life, and be sure to include #RelaxZenLife so that we know you're entering the contest!
You can enter as many times as you like; the more contest-entry tweets you send, the more likely you are to win. Our team will select and announce the winner on Tuesday, 1/25/2011.
While you're at it, Follow RelaxZen on Twitter (@RelaxZen) and "like" RelaxZen on Facebook!
Visit RelaxZenShots.com for more information.