Updated by Angelica on 8/10/18
We're really into surveys here at Smiley360. Is it that obvious?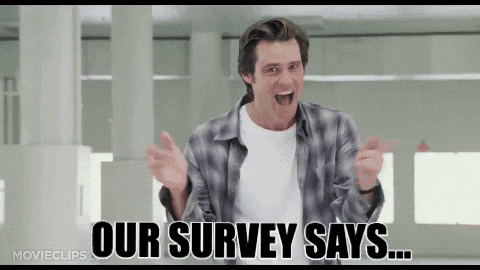 In case you've ever wondered why they're such a big part of being a Smiley member, we're here to explain!
Our Survey Says…
Every so often, we'll send short surveys to help match you with the right Missions. We typically ask questions about your likes, dislikes, habits and opinions to tell if a product is right for you!
Surveys like these could come in many forms:
Instant Qualification Survey: Take a short survey to see if you qualify for a new Mission. Simply answer the questions honestly and if you qualify, you'll find out right away!
Future Qualification Survey: Take a short survey for a new Mission launching at some point in the future (usually within a few weeks). If you qualify, you'll be surprised with a new Mission offer when the Mission launches!
Background Survey: If you have qualified for a new Mission, you may need to take a Background survey before you can accept your offer. This survey asks a few simple questions about your previous use of the brand and its competitors. Your answers will not affect your qualification for the Mission.
Community Survey: Take a Community survey about a special topic, which could lead to a new Mission in the future.
Final Survey
Another type of survey you'll encounter on every Mission is the final survey. At the end of your Mission, the final survey will appear on your Dashboard. It exists to compare your opinion on the product before the Mission versus after! Make sure you take 2 minutes to complete it after every Mission and we'll award you with 10 points.
Your Data
We only ever use your survey responses for our Missions. It is never used for any other purpose or sold to any third party.
Please rate your opinion on this blog post between 1 and 10… just kidding! But do leave your comments and questions below—we love to hear from you!
LIVE! Smiley360 Membership Guide Lessons
Missions, Points & Badges—Smiley360 Explained
Facebook, Twitter And Your Smiley Missions
How To Write A Quality Product Review
What's The Deal With Surveys?